ROAD ASSISTANCE
24 Hour Road Assistance by QBI Group Bulgaria!
Region: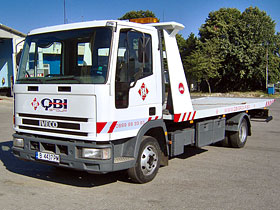 About Us
QBI ASSISTANCE is a company which is part of QBI Group. Its primary field of activity is offering Road Assistance and transportation of all kinds of vehicles. The company was founded in 2002 in Varna. The company has established itself on the Bulgarian market as a leader in Road Assistance services. It works with all the major car repair and car insurance companies in Bulgaria.
Each year QBI Assistance offers high quality Road Assistance service to more than a thousand vehicles. Our highly qualified staff has been trusted by many people and this has contributed to the growth of the company. QBI Assistance offers Road Assistance services on the whole territory of Bulgaria. Our many partner companies make it possible to offer our services in any place on time.
Nationwide Road Assistance telephone number -
089 999 3363


(on the territory of Bulgaria)

Top
Regions of Operation
QBI ASSISTANCE started its Road Assistance operation initially on the territory of Varna region. However, with time the name of the company became synonymous with reliability and high quality service. The increased demand was the driving force for establishing business partnerships with many major Road Assistance companies in Bulgaria.
At the current time, QBI Assistance offers Road Assistance service directly or through its many partners in all major cities in Bulgaria: Sofia, Varna, Plovdiv, Burgas, Sliven, Stara Zagora, and Shoumen. If you need our services do not hesitate to contact us or one of our partners directly:

Top
Road Assistance services Covered by QBI ASSISTANCE
Transportation of damaged and crashed vehicles
Transportation of the passengers from the damaged vehicles
Roadside vehicle repair
Pulling out of stuck vehicles
Roadside battery assistance
When necessary our mechanics can refer you to the closest suitable car service station

Top
Prices
QBI ASSISTANCE offers the most competitive prices on the territory of Bulgaria for Road Assistance services. Prices are determined according to the place of assistance, and the difficulty of the operation.
Call us to find out more details: 089 999 3363 (on the territory of Bulgaria)
QBI ASSISTANCE appeal: Drive carefully and always put your seatbelts on!
Last updated on 24/02/2018

Top